Book: Blender Game Development Tutorial released! (December 17, 2022) new
Mantis LOD Editor - Professional Edition v8.0 released! (June 12, 2021) new
Mantis LOD Editor - Standalone Edition v4.0 released! (March 27, 2021) new
Mantis LOD Editor - Professional Edition v7.0.1 released! (March 27, 2021) new
Mantis LOD Editor - Professional Edition v6.2.1 released! (May 7, 2020) new
Mantis LOD Editor - Professional Edition v6.0 released! (February 28, 2020) new
Mantis LOD Editor - Professional Edition v4.0 released! (October 14, 2019) new
Better FBX Importer & Exporter - Blender Addon released!(July 24, 2019) new
Mantis LOD Editor 2019 bring new features!(January 25, 2019) new
Kinect Mocap Toolkit For Windows v1.0 released!(October 28, 2018)
Voxel Heat Diffuse Skinning - Blender Addon v3.0 released! (April 4, 2018)
Mantis LOD Editor - Update to FBX SDK 2018.1.1! (March 19, 2018)
Voxel Heat Diffuse Skinning - Blender Addon released! (September 19, 2017)
Mantis LOD Editor - Professional Edition updated! (September 26, 2016)
Mantis LOD Editor - Standard Edition has been featured by Unity3d Asset Store! (April 29, 2016)
Mantis LOD Editor - Blend shape keeping feature added to all editions! (November 28, 2015)
Mantis LOD Editor - Professional Edition released! (June 14, 2015)
Complete new tutorial videos for Unity5! (May 21, 2015)
Mantis LOD Editor - Standalone Edition v1.3.3 released! (April 28, 2015)
Mantis LOD Editor - Support Unity 5! (March 9, 2015)
Mantis LOD Editor - Standalone Edition v1.3.2 released! (November 23, 2014)

Cheetah models simplified in Mantis LOD Editor Standalone Edition v3.0, hover the mouse on the image to see more details.
The maximum LOD has only 476 triangles, hardly no other algorithm can achieve such high quality with low triangles count.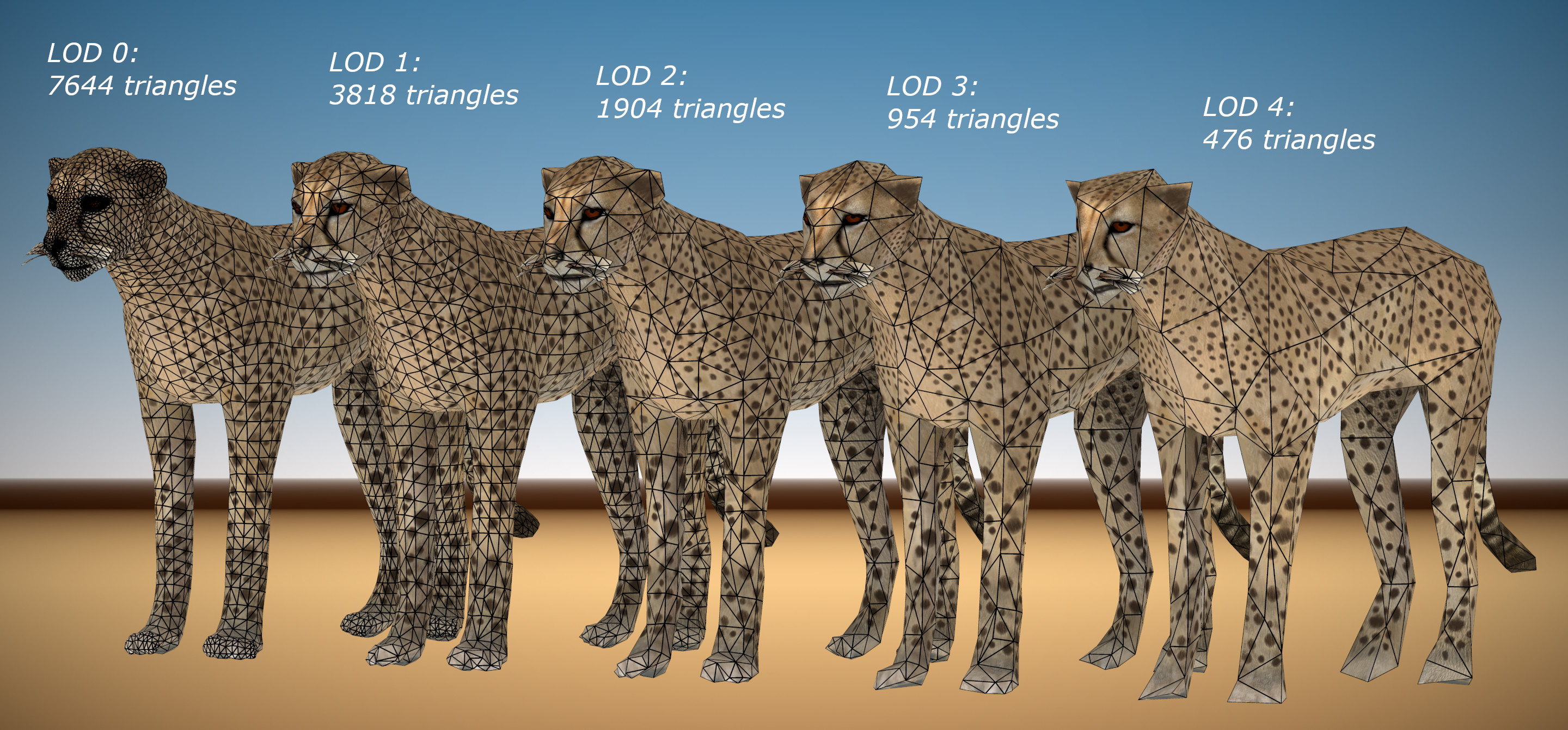 Hover
You can watch the introduction video and tutorial videos online, and find more screenshots on the showcase page.